The world has gone crazy about Pokemon Go – an augmented reality game. People play the game on their mobile devices but have to move in the real world to catch Pokemons, collect goodies at Pokestops, train and fight in the Gyms.
So how can you benefit from this new trend if you own a café or a shop or run a museum, exhibition or other place of interest?
Location, Location, Location
First, the game gives you a perfect opportunity to increase pedestrian traffic to your place (hopefully you know how to convert visitors into customers). Go online and check whether you are lucky to have a Pokestop or Gym at your place. The chances are good, since Pokemon Go locations are eventually ex-Ingress portals, which marked almost any big and small point of interest. The spot would attract both returning visitors (if you happen to be near their home or work place) and random passing-byes.
Lure Them In!
A powerful method to increase the appeal is to use Lure device at your Pokestop. Lure is a goodie which draws Pokemons to a particular location for 30 minutes. The players may recognize Lure on the map by pink flower petal falling on the spot.
How do you get Lure? First, you can pick them up at Pokestops as any other goodies, but this is a long and inefficient way. Second, you may buy them as an in-app purchase. The game shop still seems not to be available outside the U.S. or other countries where the game was officially launched, but I am sure this is just a matter of time. To the best of my knowledge, if you have an iPhone and a U.S. credit card, you can buy goodies already from anywhere in the world.
Third, you may motivate your customers to use their Lures in your location by giving them freebies and discounts – a win-win deal. Note that a Pokestop is actually an area rather than a single stop, so you can unite with your fellow business owners from the area and share the costs of Lures.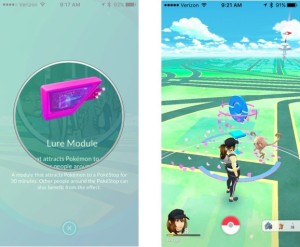 Treat Them Well!
Even if you do not have your own Pokestop or Gym, but there are some of them nearby, you may try to benefit from the traffic anyway. Place your advertising stand or billboard near the game spot or introduce special offers for the players. For example, "every player get a free cookie with any order", "your discount increases with your level in Pokemon Go" or "anyone who catches a Pokemon in out location receives our loyalty card for free". Cafés and restaurants may even invent new dishes and drinks – how about Pikachu shake? (just be aware of intellectual property protection rights in your country).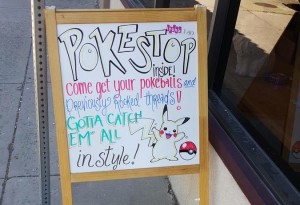 Converting visitors to customers is a tricky part. Some American businesses with Pokestops have already experienced an inflow of random visitors, which resulted in zero conversion or even negative conversion, when paying customers started leaving the place because it was overcrowded with schoolchildren and students hunting for Pokemons. So making a right value offering to visitors is as important as getting these visitors to your location.
Some businesses try to prohibit playing on their premises unless a visitor buys something. Do not do this. First, you really cannot control what do people do on their phones. Second, you look like a jerk when you expel people from your place.
Track Niantic News
Niantic, the creator of the game, has already recognized huge marketing potential of business partnerships. As of now, the company is too busy trying to maintain the servers alive, but it has already announce a possibility to request a PokeStop or Gym at your business location by filling in this form.
Niantic also considers introduces sponsorship packages, in-app advertising and special branded Pokemon types which would appear only in certain locations. So watch out for the company's announcements and use the new features to your benefit.
The Power of Social Media
You may use this Pokemon fever to your favor also online. Put some relevant content with #pokemon, #pokemongo or similar hashtags on your business page. Look at this brilliant example from Manchester NH police department.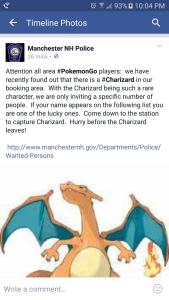 Boast a rare Pokemon found at your location. Broadcast your Gym battles. Launch a contest on Instagram or Facebook and ask your customers to post the pictures of Pokemons caught at your museum or cafe.
Good example comes from Crystal Bridges Museum of American Art in Bentonville, Arkansas. The museum staff took photos of Pokemons next to various pieces of art in the museum and blogged about it. They got mentioned in Forbes for this!
Another idea for open-air concerts, museums, libraries, etc. is to announce on your social network pages that you would launch Lures at your place at certain time. Schedule it right before a concert, a street performance or a lecture.
Do It Now!
If you have an idea of using Pokemon Go as a part of your business promotion, then do not wait, act now! The first one who implements the idea picks all the cherries. Try and test. Catch them all (customers AND Pokemons)!