The format of free walking tours started in 2004, and now is popular in Europe and the USA. The right name would be "pay-as-much-as-you-want" tours – there is no obligatory fee, but the guides are earning money on tips from participants.
In the large European cities the free walking tours are run by large companies like Sandeman's – the pioneers of the format. In less popular tourist destinations individual enthusiast guides.
For some reasons we were ignoring the free tours for a long time, but we tried them during our recent trip to Albania and Macedonia, and it was an amazing experience! So I would like to share with you the reasons of why to go for a free walking tour.
Reason #1: Getting acquainted with the city quickly and efficiently
If you don't have a lot of time in the destination and the city itself is not huge, you would be able to see all major highlights during the tour that lasts for 1.5-3 hours. The guide would also show you some hidden and off-beaten places that you would hardly be able to find by yourselves. You also get an overview of the city's and country's history and traditions.
Reason #2: Meeting a local
You guide would not only be a tourism professional (most cities require the guides to be licensed, even for the free tours). Such guide is usually a person who loves the city and knows it in details. Don't be shy, ask a lot of questions.
Gazi, our guide in Tirana (at the top photo), told us what it was like growing up in communist Albania. And Miha who took us around Skopje (at the photo below) was joking bitterly about the passion of city authorities for pompous barocco style and gigantic statues. And both of them gave us great recommendations for places to eat and drink – one of them was "Komiteti" bar in Tirana with vintage design and overwhelmingly wide choice of rakia.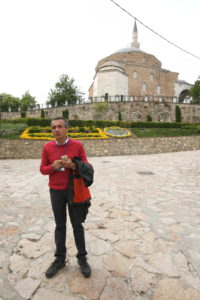 Reason #3: Flexibility
You do not need to pre-register for a free walking tour, just to show up at the meeting point at the starting time indicated on the website. So you may improvise and do not need to plan the walk in advance. The tours are run 350+ days per year, except for the largest holidays (and sometimes even on holidays – we were walking in Skopje on Easter Monday).
Reason #4: Meeting other travelers
Free walking tours attract a diverse audience from all over the world. We met people from Australia, Canada, Czech Republic and even from Lebanon. They are mostly backpackers and independent travelers, interesting people with a lot of stories to tell.
Reason #5: In the worst case – it is free.
If you are unlucky and the tour is not what you have expected, you may just leave. But this is an exception, not a rule – weak guides just do not survive in a tip-based model.
If you liked the tour…
Don't be greedy – give a good tip. Although you have a right to walk away paying nothing, this is just not nice to the person who have just put his heart and soul to show you around. Most forums says that EUR 5 is an acceptable amount, EUR 10 in the more expensive cities. And if you really loved the tour – rate it on Facebook and Tripadvisor and leave a positive feedback. If the guide has a personal hashtag, you may use it to tag your photos on Instagram and post on Twitter.
Links and feedbacks