The capital of India is full of magnificent temples, mausoleums, museums and parks. The shopping opportunities are plenty and the food is exotic. At the same time, New Delhi is dirty, crowded and full of scammers. It is also infamous for "Delhi belly" – diarrhea and food poisoning experienced by many tourists. If you want positive experiences to outweight the negative ones, I invite you to pay attention to the New Delhi survival kit below.

1. Bottled water
The first rule of survival in New Delhi – drink the bottled water. Tea, factory-packed juices and soft drinks are acceptable. I took a risk and also drank lassi (local yogurt-like product) – Indians order it a lot, so you may expect it to be fresh. But tap water or the water sold from "licensed" carts is a big "No". Bottled water is cheap and does not contain microbes. When you buy a bottle, make sure that the plastic cap is intact. Ask for "no ice" in cafes and restaurants. Close your mouth when you take a shower; brush your teeth with bottled water. I know this sounds paranoid, but it is better be safe than sorry.
2. Sanitizer
Apply sanitizer gel or spray on your hands before a meal or a snack, especially when you do not have an opportunity to wash the hands with soap. We actually avoided the street food: although there are plenty of food stalls, the quality and cleanliness of Delhi street food is a Russian roulette played with your stomach. There is a lot of affordable cafes and restaurants in the city.
3. Sunscreen
It is hot for most of the year in New Delhi. We were there in the end of October, and the temperature was holding at +35 C (+95 F). So a sunscreen and a hat are your friends in this trip. Based on my experience, the best clothes to wear in India are a cotton shirt and harem pants or long skirt. You can buy them everywhere. These clothes are comfortable, light and sufficiently respectful to visit temples, where you are required to have your shoulders and knees covered up.
4. Passport and money pouch
Tourist places in New Delhi are as full of pick-pockets, as they are in other big cities. Carrying your passport and money under your clothes in a secret pouch is a good idea. Put a small amount of money for the current purchases in your handbag or a zipped pocket so you don't have to reach the secret pouch frequently.
5. Plastic shoe covers
Important part of New Delhi heritage is mosques, Hindu, Buddhist and Jain temples, where you should take off your shoes before entrance. So choose shoes that are easy to put on and off many times per day. If you do not want to walk barefoot for hygienic reasons – take with you an extra pair of socks or plastic shoe covers (just for avoidance of confusion – put them on your feet, not on your shoes).
6. Shawl
Women and sometimes men are required to cover their heads in mosques and most temples. They give you shawls at the entrance, but it is better to have your own one.
7. Anti-diarrhea medications
Take the medications to help you against food poisoning and diarrhea, in case you fall under "Delhi belly" curse.
8. Flip-flops
A shower in a hostel or a budget hotel would likely be simply built in the wall, with water pouring directly on bathroom floor. Flip-flops come handy both for hygienic purposes (especially in shared bathrooms) and in order not to fall on a slippery floor.
9. Power strip
Maybe it was just a coincidence, but I suffered from lack of power sockets for charging our gadget in all hotels during my stay in India. So a power strip or a three-way plug adaptor would be handy.
Indian power sockets fit both European and UK plugs, while American plugs need an adaptor.
10. The "No" word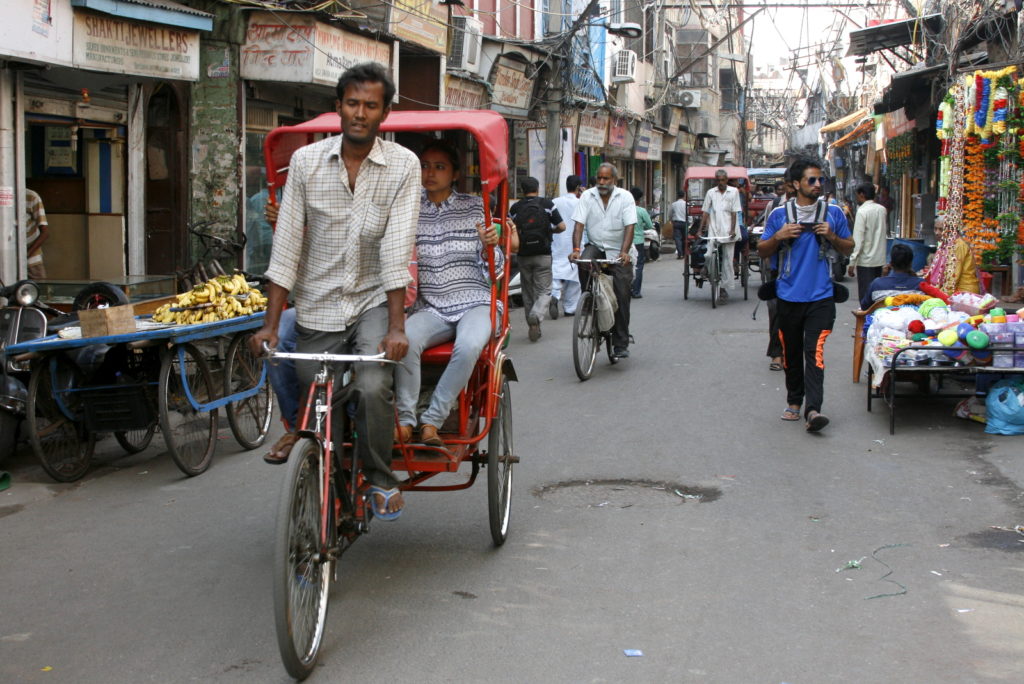 India is the place to practice a strong "No", even if you are generally a "Yes-type" person. A rule of thumb: if an Indian addresses you first and he/she is not wearing a uniform of a security guard or ticket inspector, than he/she wants your money and would not hesitate to cheat you. There are many millions of honest people in India, they just do not start the conversation with your first.
It does not really matter how the person starts a conversation («Hello, where are you from?", "Mister, what are you looking for?", etc.) – you may expect some type of scam. This may be either selling you low-quality souvenirs for 10x price, or getting you to an overpriced shop or tourist agency for a commission from the latter, or asking money for showing you the way to your destination, or just begging. The tourist attractions areas are crowded by licensed and unlicensed guides who would aggressively sell their "assistance". They would normally not tell you anything on top of what you can read in your guidebook, but if you still decide to go for it – set a price from the very beginning and make sure it is full and final (not "per person" or "per hour").
Always bargain with rickshaws, auto rickshaws and taxi driver and set a fixed price before you get inside. Do not buy into their stories like "mister, this hotel is closed/burnt down/moved, I will show you a better one" or "the museum is closed today, let me take you to a sightseeing tour". They would take you to places that pay them commissions (and your hotel is probably still in its place, and the museum is open). Bargaining is a skill you definitely need in India if you want to pay just a "tourist price", not a "stupid tourist price".
Overall, India keeps your focused. You may need to say "No" to someone literally every minute. Just survive the first day, it would be easier afterwards.
P.S. I am proud that we came back from India not experiencing stomach problems and not having been scammed, and brought beautiful photos and impressions. I wish you the same!